Our experience at Orgatec 2022, the main international trade fair dedicated to the world of work, has just ended. This renewal was entitled "Hybrid, multi-local, virtual: how will we be working in the future?"  It was conceived with the aim of showing how intelligently designed work environments can promote corporate culture and facilitate shared successes.
A total of 686 companies from 43 countries presented their products and ways of responding better to the current and future needs of the rapidly and continuously evolving workplace. Among these: 149 were domestic exhibitors, while 533 were companies from outside Germany. The visitors attracted by the fair totalled 45,000, coming from 130 different countries around the world.
The restart of Orgatec 2022 after the suspension forced on us by the pandemic, therefore, was a huge – and international – success. Taking part in it makes us extraordinarily proud and satisfied!
NEW WORK ENVIRONMENTS FOR THE FUTURE
It is now clear to everyone how the world of work has been completely revolutionised in recent years. What seemed utopian until yesterday is now reality and normality, a normality that we can describe through three key concepts: hybrid, multi-local, agile. Not only has there been a transformation of work environments, but also of those who inhabit them on a daily basis.
To keep up with all these changes, new solutions are needed to design ideal workspaces for new and ever changing conditions;  solutions which are able to stimulate creativity, concentration and inspiration. This is precisely the objective that guides Diemme's work every day!
And at Orgatec 2022 we all saw how intelligently designed work environments are able to promote corporate culture and make shared successes possible.
PUTTING SUSTAINABILITY FIRST FOR A BETTER WORLD
Among the focal points of Orgatec 2022 was the theme of sustainability, a topic that is particularly close to our hearts at Diemme. Every day we work to ensure that all the materials we use are environmentally friendly, recyclable, chemically safe and of local origin. This reduces waste and promotes the growth of an environmentally friendly market.
It is no coincidence that many Diemme collections perfectly match this philosophy. Featuring high amongst these is the brand new KIRE, launched at Orgatec 2022. The version with black shell is made of 100% recycled plastic thanks to the use of a new generation polypropylene entirely moulded with strong recycled fibres, for a final result that is practically indistinguishable from virgin plastic. Kire's extreme versatility also allows you to change some components over time, thus maximising lifecycle and durability.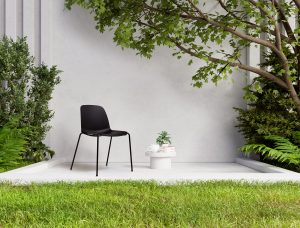 SEATING SUITABLE FOR EVERY SETTING: THE IMPORTANCE OF SHAPES, MATERIALS AND COLOURS
Also at Orgatec 2022 we presented some of our proposals, showing how each collection has multiple variants to cater for all applications and tastes, in terms of shapes, materials and colours. Each setting, depending on its use, requires an accurate study of these aspects, not only to create an aesthetically pleasing place, but also to convey identity, values ​​and feelings.
LOFT expresses this great variety best of all. It is a collection made up of a sofa, armchair and barstool. What is special about them? The possibility of choosing from a vast range of finishes, coverings and colours, because every space needs to be personalized as it deserves!

RESPONDING TO EVERY NEED THANKS TO BESPOKE FINISHING
"Made to measure": a lifestyle, rather than a motto, which has accompanied us in all our projects since our inception. Bespoke finishing is one of Diemme's cornerstones, which is why every time we decide to collaborate with partner designers, we pay great attention to ensuring excellent standards.
More than any other of our products, SNAKE – also displayed at Orgatec 2022 – best summarises this concept of bespoke finishing. It is in fact a complete modular system with a design that allows the components to be used individually or combined with each other. This means that multiple configurations can be created and adapted to any type of setting on a "made to measure" basis, precisely to meet necessary stylistic and space requirements.

MADE IN ITALY: SPREADING ITALIAN CRAFTSMANSHIP AROUND THE WORLD
The marketplace never stops changing, but the value of Italian manufacturing tradition survives. Diemme too, like many other companies, has chosen to open up to new markets, but with the absolute certainty that the production of our products will always and constantly be linked to craftsmanship and Made in Italy. This is why participating in Orgatec 2022 for us meant contributing to the global awareness of timeless Italian design.
When we talk about craftsmanship we mean the union between quality design,engineering and experience. And it is precisely with this philosophy in mind that SKIN was conceived, the perfect chair for the requirements of today's office. Sleek design, carefully balanced proportions and hidden ergonomic functions: SKIN assures a fantastic feeling of natural balance combined with a strikingly unique look.